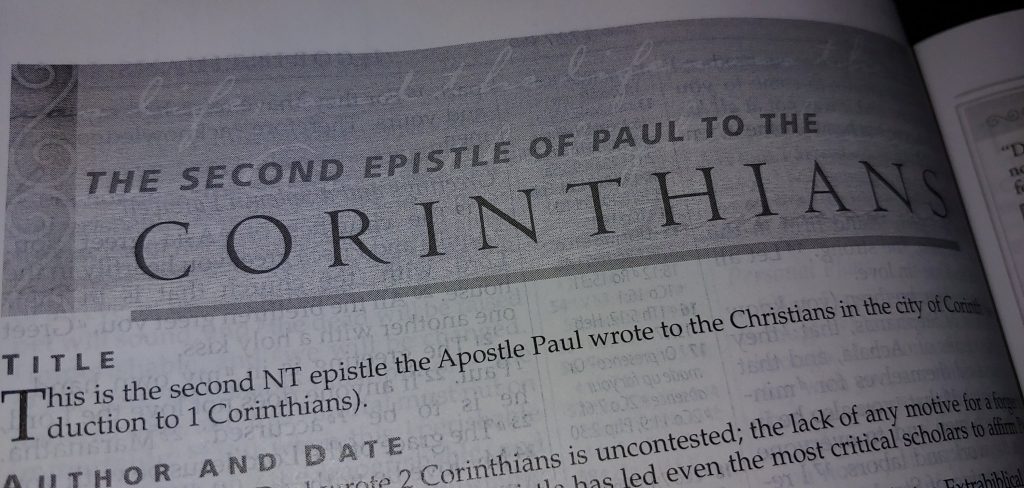 This is the fourth letter of a four-letter corrective series that Paul wrote to the church at Corinth. Interestingly, this letter, of all his letters, is uncontested in authorship, because this is his defense and justification for his ministry. That's of interest, because Paul, believe it or not, was a most humble person. For him to have to defend what he was doing to people that were being pulled astray by "super apostles," must have been difficult without really putting himself out there in pride, and pride in a bad sense. I suppose it is testimony to the Lord's changing of his character that he did this so gracefully.
As it turns out, the letter is fairly easy to date also. You may recall that Paul had to stand before the Proconsul Gallio in Corinth. Most Scholars put that trial in A.D. 52, as Gallio's proconsulship began in A.D. 51. These sources are extrabiblical, but you can read about this in Acts 18, about v.12. Anyway, After this trial in Corinth, Paul sailed for Syria (Acts 18:18) and concluded his second missionary journey. Now at the close of that time period, he wrote his send letter to Corinth from Ephesus (that's the book we've just completed studying) in about A.D. 55. His next letter, the angry one that he wished he could take back was also presumably written from there, and not a long time passed before he received word from the brothers that had visited Corinth. He received word after he had left Ephesus, and that caused him to writhe his fourth letter, this one, in either late A.D. 55 or early A.D. 56.
Remember, this is taking place after Paul spent 18 months serving Christ in Corinth. He has written three letters (possibly a fourth, but that is disputed) before now. The backdrop for this letter is what was then going on in Corinth at the time. Several new faces had arrived at the church in Corinth, claiming also to be apostles, and these self-styled apostles began to teach false doctrine immediately. To backstop their false teachings, the easiest way for them to attempt to undo what Paul had done was to assault his character with false claims about him, and about how they were more important apostles than Paul was, in fact they were "super apostles." And like today, people believed them. Who has more general and vocal popularity? John MacArthur or Beth Moore? Anyway, that's just an example.
Returning to topic, Paul was troubled by this, and actually interrupted what he was doing in Ephesus and went to Corinth in what he called (2:1) the painful visit, and was insulted to his face, by someone, we don't know who, but an intelligent guess would place this insult as coming from the mouth of one of these false prophets. Paul was underwhelmed at the lack of support he had from the Corinthian believers at the time, and basically just left and returned to Ephesus, from where he wrote what has become known as the "angry letter," the third corrective epistle.
Have you ever said or written something that you wished you could take back as soon as you said it or pressed the publish button? I know I have. I think that's how Paul must have felt about this angry letter he sent to the Corinthian believers. It probably ate at him, not knowing how they would receive the harsh words he wrote. Naturally, I was curious as to the contents as to what was actually in that third letter, and I encountered in my research two theories. The first theory is the simplest – the third letter was lost in the same way as was the first. It makes some sense from a "we were embarrassed and would rather not remember that" point of view. The letter was "accidentally" misplaced. The second is more interesting to me personally, and I lean this way – that letter is preserved in 2 Corinthians 10-13. It may have been rewritten and expanded on by Paul, and here is why.
Paul eventually received word from Titus that the Corinthians had responded positively to basically the written rebuke of Paul, where he called out those false teachers, perhaps even by name, though we do not know that for certain. There is some story worth noting here. Upon Paul's return to Ephesus, he was in such as state that he wrote that letter and sent it. Then it began to eat at him, as we discussed before. It began to distract him from the work, so he left Ephesus and travelled to Troas to look for Titus, who had delivered and probably read the letter to the Corinthian gathering. He mentions this in 2:12-13, and again in 7:5-9, and together, these verses tell a bit of a story that we will look at here.
Now when I came to Troas for the gospel of Christ and when a door was opened for me in the Lord, I had no rest for my spirit, not finding Titus my brother; but taking my leave of them, I went on to Macedonia.
For even when we came into Macedonia our flesh had no rest, but we were afflicted on every side: conflicts without, fears within. But God, who comforts the depressed, comforted us by the coming of Titus; and not only by his coming, but also by the comfort with which he was comforted in you, as he reported to us your longing, your mourning, your zeal for me; so that I rejoiced even more. For though I caused you sorrow by my letter, I do not regret it; though I did regret it—for I see that that letter caused you sorrow, though only for a while— I now rejoice, not that you were made sorrowful, but that you were made sorrowful to the point of repentance; for you were made sorrowful according to the will of God, so that you might not suffer loss in anything through us.
Is it me, or does that sound to you like a the story of a fellow that absolutely HAD to get word about something? I know I've been in that situation. It sounds like he didn't find Titus in Troas, so he went looking for him in Macedonia, and then rejoiced, relieved that his letter was so appropriately received. Look at the text from chapter 7. Especially the part that says he did not regret it, although he did regret it previously. Paul saw the repentance that caused sorrow at the offence and then the zeal to make it right, something we should take note of as indicators if we are in leadership, as things we can use to measure a person when they say they are sorry and want to change. Are the in fact changing? But I am in danger of wandering from the topic again.
This good news caused Paul to pen another letter to Corinth, most likely from Philippi, as several ancient manuscripts seem to indicate, and is at least generally accepted by the majority of scholarship. Compare 11:9 with Phil. 4:15 on your own and you'll see what I'm thinking about. This letter really fits in well with the details recorded in Acts and 1 Corinthians and contains a great deal of biographical information on what we know of Paul in the present. It is a very personal communication to a church, but one must acknowledge that this was a letter written by an Apostle (capital A) in the heat of battle against those false teachers that were attacking his credibility. As such, it will contain several theological themes that we can see in the way we break the book into thought units. I broke it down as follows:
KV 10:4 – We Do Not Fight in the Flesh
10:4 – for the weapons of our warfare are not of the flesh, but divinely powerful for the destruction of fortresses.
1:1-7 – Greeting
1:8-3:18 – We Do Not Commend Ourselves
4:1-6:18 – We Do Not Preach Ourselves
7:1-9:15 – We Do Not Serve Ourselves
10:1-13:10 – We Do Not Glorify Ourselves
13:11-14 – Closing
If there is no link below, that study is not posted yet.
Notes: O | 1 | 2 | 3 | 4 | 5 | 6 | 7 | 8 | 9 | 10 | 11A | 11B | 12A | 12B | 13
Video: O | 1 | 2 | 3 | 4 | 5 | 6 | 7 | 8 | 9 | 10 | 11A | 11B | 12A | 12B | 13